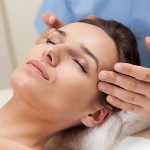 This unique system combines the gentleness of Biodynamic Craniosacral Therapy with the laser-like focus of Facial Acupressure is based on ancient Chinese knowledge and modern biodynamic cranio sacral techniques as well as the latest research on brain science, social engagement, facial and cranial health. It allows to unlock old trauma patterns held in the face in a loving, gentle way and relax the overworked face, body and mind.
No Botox injections or acupuncture needless.
Improve elasticity and tone in your skin, connective tissue and muscular layers of your face.
Enhance circulation of your lymph, blood and chi.
Restore expressivity, joy and youthfulness to your face.
Bring relaxation to your whole body through contacting the social engagement nervous system.
Transform underlying stagnations, weaknesses and imbalances reflected in your face – the Yin and the Yang.
$125
(60 min.)