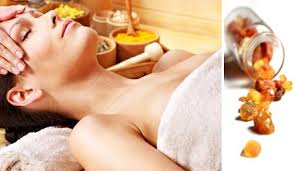 Unique Facial is performed using pure Baltic Amber that contains up to 8 percent succinic acid. Amber regulates energetic processes in tissue and cell level through free electron energy exposure. Antiseptic, boosts immune system. Facial includes face, decollete, neck and shoulder massage, steam, amber scrub, extractions, amber mask and hydration. Scalp massage and hand treatment included.
Amber Facial promotes skin rejuvenation, diminishes small facial lines and dark spots, improves skin elasticity, brightens and tones the skin.
Enjoy a cup of amber tea after the Facial.
$135
(60 min.)